In the project Social objects for innovation and learning, we explore the role objects play in our everyday lives, at work and at home, in and through our interaction with other humans. The project will thus advance our understanding of objects as they feature in actual situations of human activity, by examining how objects are used, created, perceived, attended to, shared and understood across a range of different interactional contexts. Within the project we will pursue two key interests:
how do objects support creativity and collaboration for innovation?
how do objects mediate and support learning and instruction?

OBJECTS FOR INNOVATION
Objects' potential for allowing humans to think, create, communicate and collaborate differently than when relying only on discursive practices of talk has been recognized and embraced in many walks of life.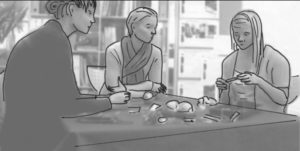 In the subproject "Objects for innovation", we will consider a range of different environments in which humans engage in sense-making and creative practices, such as design and innovation processes, professional encounters with clients and customers and everyday activities of dining, to explore how objects are recruited and subsequently employed in interaction as resources for sense-making and creativity. For instance, we will investigate how objects might work to facilitate and accomplish sense-making; how objects are employed in processes of planning, imagining and creating and how objects are given new meaning and use in the meeting of individuals.
OBJECTS FOR LEARNING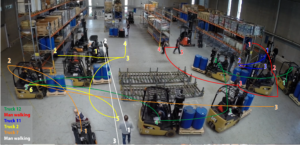 Most learning activities takes place in rich material and semiotic environments, whether the learning involved concerns performing an everyday task such as brewing coffee or a more complex and consequential task such as surgical procedure.
In the subproject "Objects for learning", we will consider a range of different learning situations, such as patient education, driving lessons and the on-site training of future archaeologists, to explore how learning with objects occur in situ. For instance, we will investigate how objects are used as part of the tacit instruction of novices and how novices demonstrate their acquisition of new knowledge and skills through their handling and naming of objects.
_______________________________________________________
Each year we have a theme and connected to that theme we hold a workshop leading to a collected volume. The themes are listed below, followed by the name of the responsible project member. More information regarding the themes will be available as the project progresses. If you think you might be interested in attending a workshop on any of these themes or contribute to one of the volumes, do not hesitate to contact us.
THEMES
2014: OBJECTS, INTERACTION AND KNOWING - MAURICE NEVILE
How, in or through interaction, do people orient to and manifest their knowledge of objects, locally and in the moment; how can the features, affordances, or design of objects impact knowing for activity, experience, and interaction?
2015: OBJECTS, INTERACTION AND EMBODIMENT - DENNIS DAY
What role do objects play in the in-situ, embodied and spatial circumstances of interaction and how do participants organize their embodied conduct around such objects?
2016: OBJECTS, INTERACTION AND ORDER - JOHANNES WAGNER
How do objects contribute to the accomplishment of actions in interaction and how do participants employ objects as interactional resources for developing order?
The central public activity for the 2015 theme of Objects, Interaction and Embodiment, the Social Objects project was organizing an extended panel at the 5th International conference for Applied Linguistics and Professional Practice (ALAPP), 6-8 November 2015. The conference was hosted by Università degli Studi di Milano in Italy.
Social objects for innovation and learning (SOIL) is a research project funded by VELUX FONDEN and Department of Design and Communication, University of Southern Denmark, Kolding. The SOIL project commenced in January 2014. It runs for 3 years and will be conducted in cooperation with SDU Design.